Trivia Royale – Trivia App Review
Introduction
Today we will be talking about Trivia Royale – Trivia App Review. The game has been discontinued from the Apple and Google play store as the author has gone out of business however you can still find it here.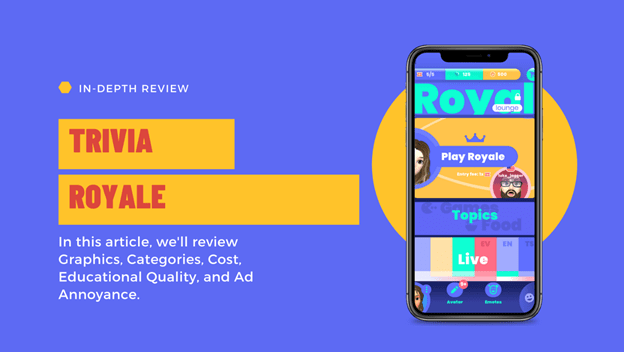 Kings and Queens, Get Ready for Our In-Depth Review on Trivia Royale
From the creator of trivia sensation, QuizUp, comes a new trivia app: Trivia Royale. Trivia Royale launched in the summer of 2020 and has already found success in the gaming market. In Trivia Royale, you challenge online players individually through a knock-out style tournament.
How does Trivia Royale work?
As the name suggests, Trivia Royale follows a Battle Royale concept. Players are able to challenge 1,000 others until only one player is left standing. In order to enter the battle, you will need tickets, which are received over time, by watching ads, or purchasing them. You win rounds by getting more questions correct than your opponent. If you win the final battle, you receive a special crown on the app as a marker of success.
Trivia Royale – Graphics
Trivia Royale's graphics make it stand out from other trivia games in the market. When you create your account, you're able to make an animated version of your face that responds to your facial cues. If you frown, the animated version of you frowns! Same with smiling, yawning, laughing (insert a whole host of other expressions).
Because you're playing against strangers, these animated avatars provide personalization without compromising privacy.
We loved this feature and are giving the app a 4 out of 5 for graphics. The only thing holding it back from a perfect score is that users have complained of glitches.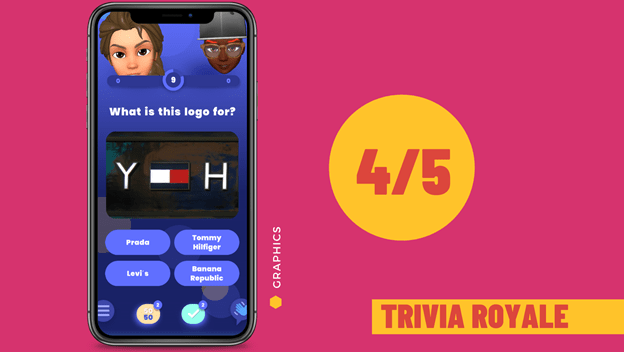 Trivia Royale – Categories
Trivia Royale has different categories that you can win trophies for. You can challenge a friend or play a random user across the world. Some of the categories are pretty standard: animals, beauty, food. Other ategories are more niche: Lord of the Rings, Breaking Bad, Anime. You have to win challenges, however, to unlock categories and aren't able to access all of them at once.
You are able to unlock all of the categories through an in-app purchase of going "premium" for $2.99 per week.
Because of the locked categories, we gave Trivia Royale 3 out of 5 for its categories.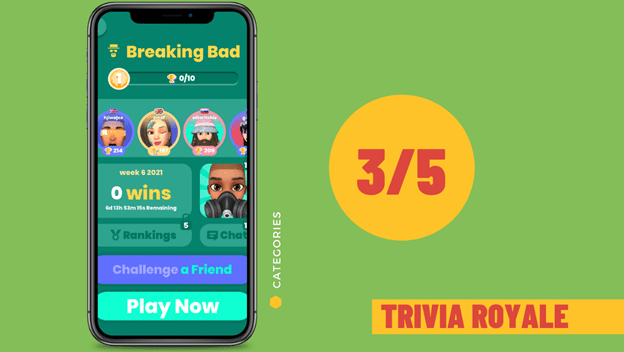 Trivia Royale – Cost of Playing
It's free to download Trivia Royale from the app store. However, if you want to get rid of ads, expand category topics, and get an infinite amount of tickets for battling, then you must purchase the "premium" package. The premium package is $2.99 per week. These payments average to about $12 per month and $144 per year. $2.99 per week isn't expensive but can certainly add up. Because of this, we're giving Trivia Royale 2 out of 5 points for cost of playing. Now that the game is out of the store these charges will not be taking place, we put them here for historical reasons.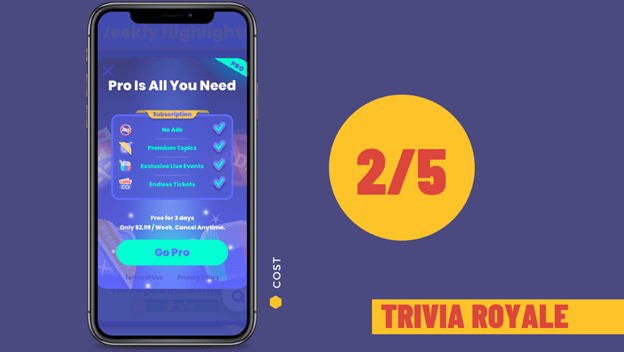 Trivia Royale – Educational Value
While Trivia Royale quizzes on a wide variety of questions, you have a very limited amount of time to respond. Likely enacted as an anti-cheating method, players only have ten seconds to respond. If you are not a quick reader, this can greatly hinder your ability to win. And what's more – if you can't read it within the time, then the educational quality is diminished.
This may also be the case for children learning on the app that are fine tuning their reading ability. It may get frustrating for them if they are not able to answer in time.
For these reasons, we're giving Trivia Royale a 3 out of 5.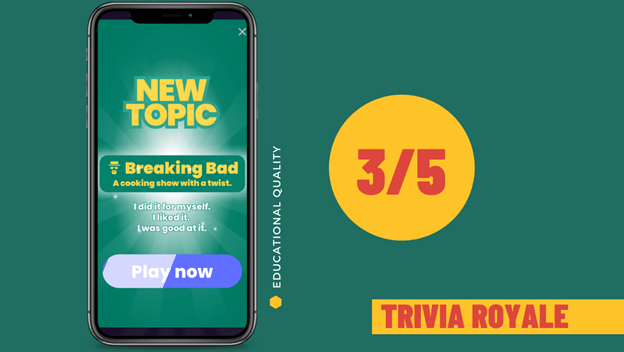 Trivia Royale – Gameplay
After each battle, players have the option to watch a video advertisement and double coins. The ads are about half a minute long. While this ad isn't mandatory, it can interrupt game play and put those who do not have a premium package of endless coins at a disadvantage. Besides, watching ads can get old after a while. For these reasons, Trivia Royale receives a 3 out of 5 for ad annoyance.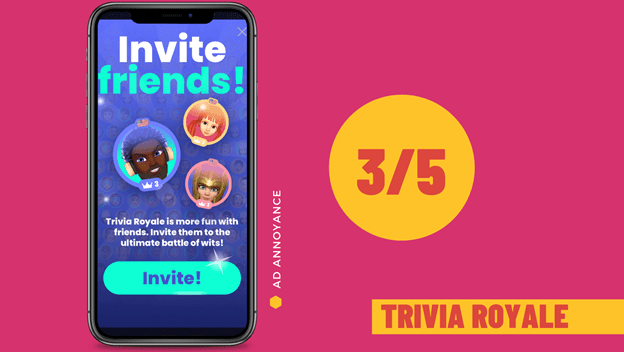 Conclusion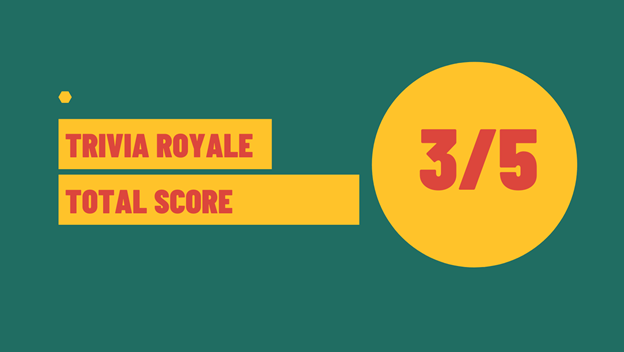 For quick readers and competitive personalities, Trivia Royale may be just the game you're looking for. But players should keep in mind that users have reported glitches and you may not be able to access all trivia categories at once, without the "premium" package. To check out Trivia Royale for yourself, head over to the app store and download it.
If you found this review useful and you think it may have helped you please drop us a line we would appreciate it.
If you have any questions, comments please post them below we check periodically and try to answer them in the priority they come in.
Also if you have any corrections please do let us know and we will update the article with new updates or mistakes we may have made.
Which is your favorite Trivia App?
If you would like to read more trivia reviews like Trivia Royale – Trivia App review please take a look at the articles below: