Quizzland – Trivia App Review
Introduction
Today we will be talking about Quizzland – Trivia App Review. The game is offered in both the Apple Store and the Google Play store. If you would like to find out more about the game you can find it in the Google store here and the Apple store here.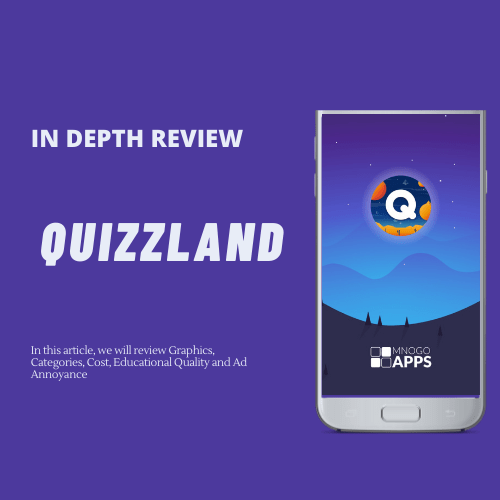 People enjoy learning new things and QuizzLand gives them such an opportunity: each question in the app is supported by a detailed explanation. The app has everything to make the education process easy and fun: competitions, duels and various mini-games to train attention and logic skills.
 Owned by MNOGO, released in 2018 and taking up 63MB of your disk space Quizzland is an informative and educational app for all Trivia aficionados.  QuizzLand comprises an exclusive collection of finest quizzes and contains more than 500 well-designed levels.
How does Quizzland work?
A simple "Play" button launches a map with a level ladder. Once you start a level there are a number of cards you need to flip before you can make it to the exit. Each card represents a different category and is denoted with a symbol: a Globe for Geography, two masks for Arts, a small experiment bottle for Science etc.  As you answer questions correct you gather points (stars or coins), get one wrong and you are penalized by watching a video. As the game goes one, you hit milestones that are branded as achievements. On top of that your overall country rank improves on the daily challenge.
On a separate route to the above, you can select to play Mini Games which is a series of questions that focus on Attention, Memory or Logic. Unfortunately these are locked at the beginning and get gradually unlocked as you level up.
Quizzland – Graphics
When it comes to graphics, Quizzland is probably not the best app of choice. Avatar is a very simple faceless man or woman. The app reads your IP and projects your country flag next to your name, while it automatically registers you on your home country ranking board. All questions are complimented with pictures which sometimes assist with picking the correct answer. When the game loads,the speed is slow in relation to the amount of graphics available. Sometimes you get stuck with the "Establishing connection" for a little while. The cards appearance as yellow boxes is probably not the best choice, while it's not easy to understand what category the next question is about.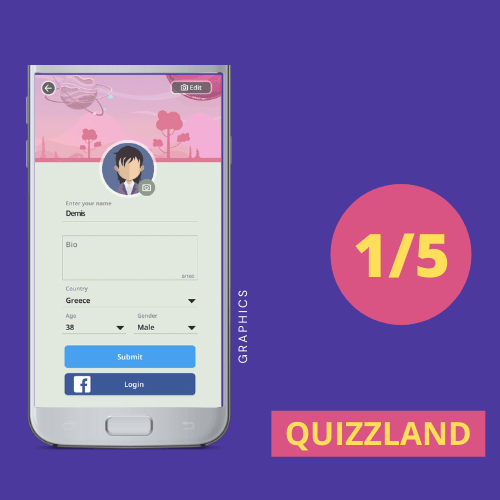 Quizzland – Categories
Unfortunately Quizzland does not allow the user to select a category for answering a question. After you have started a level you flip cards and you get a random mix of question. The difficulty of each question registers below the card with 1, 2 or 3 lines for Easy, Medium and Hard. Again you require a bit of imagination to understand what you are up against next. As you level up the questions become harder and completing a level is becoming increasingly difficult. There are no niche categories either as the game draws generic questions for answering that require minimum or no update at all over time.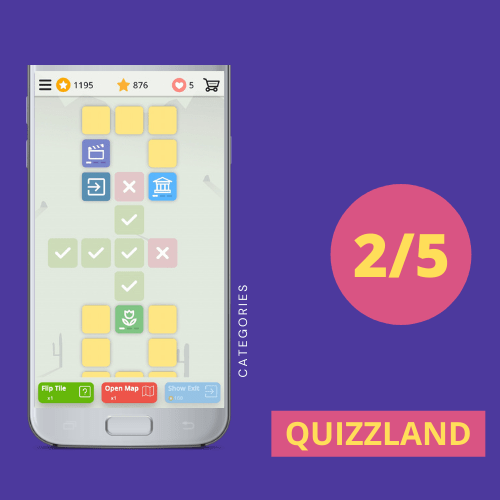 Quizzland – Cost of playing
There are a gazillion of ways for Quizzland to make money of the users. There is an online game store with everything you ever wished for. You can buy coins, assistance to answer the questions, remove ads etc. However if you just stick to the free version then all you need to do is watch video every time you fail a question. There is the option to double up your rewards after winning coins by (you guessed right!) watching another video. 
Then there are special or offers to remove ads for discounted rates. This pop up from time to time as the game progresses and you level up. Might be an idea to hold it out and wait till the offer comes up before you decide to spend your money.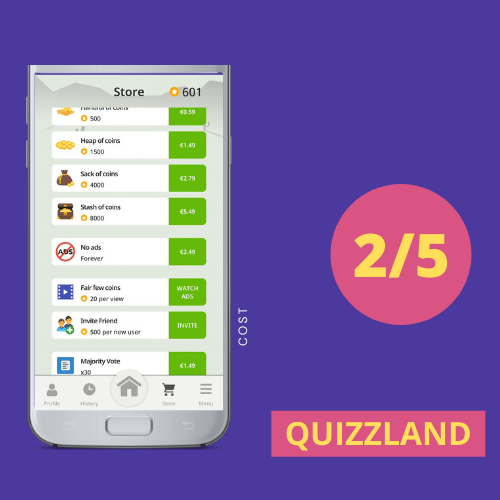 Quizzland – Educational Quality
All I can say is wow! By far one of the best educational games I have ever played. Quizzland has essentially a wikipedia article built in on a every question you answer. And yes this applies to the ones you have answered right as well as the ones you have answered wrong. There is more than ample time to answer questions, gather your thoughts and have a better go at each round of questions.
If you have kids or even studying at University this is a great way to pass your time in an educational way. Playing with a  group, makes the experience even better. The questions are good fun and there is even a blog for people to leave their comments below each question. Are you intrigued by the quiz question? Then this is the best place to read on without resorting to google!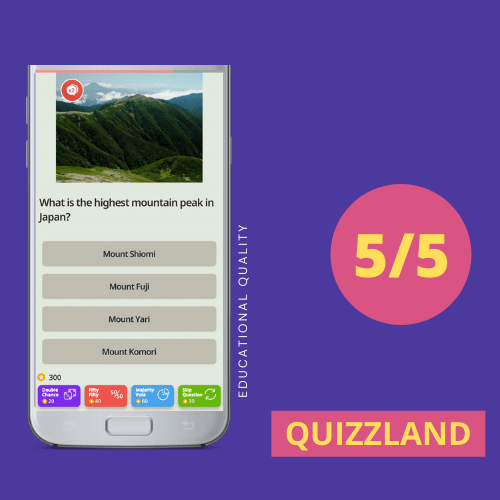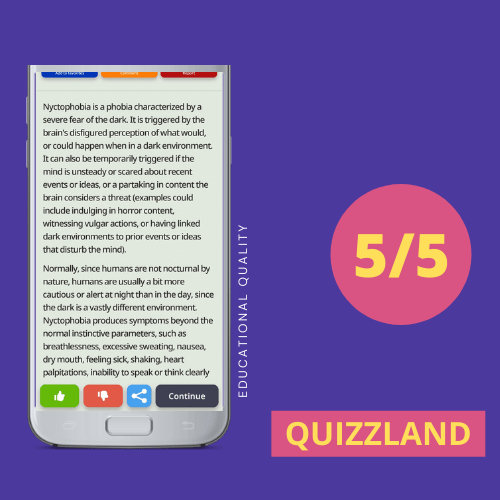 Quizzland – Gameplay / Advertisements
Through a very convoluted way of levelling up by flipping tiles you eventually get to the more challenging questions. As discussed below on the Categories section you cannot pick a category and answer questions there. However the eventual unlocking of Mini Games keep you on the hook as you try to unlock more of those quizzes. 
The advertisement annoyance really depends on your success rate. Simply put the better you are the less annoyed you get. With that in mind, by answering the first few rounds of easier questions should make Quizzland fun. But as you enter level up an questions become more challenging you will run into more videos to watch.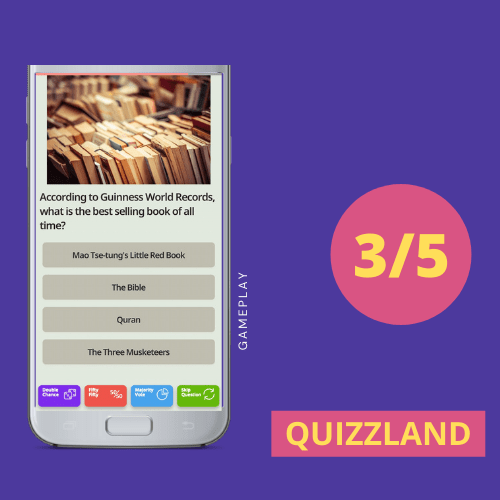 Conclusion
Definitely one of the more educational Trivia apps to play. Maybe not the best Trivia if you are the competitive type of player and are a bit picky about what quiz you like to play. Moreover, the game can become a little repetitive as you progress along however the Mini Games feature keeps you entertained. Quizzland does not stress you with a challenging time buzzer. Instead, it allows you to take your time and explore a topic.
If you found this review useful and you think it may have helped you please drop us a line we would appreciate it. If you have any questions, comments please post them below we check periodically and try to answer them in the priority they come in. Also if you have any corrections please do let us know and we will update the article with new updates or mistakes we may have made.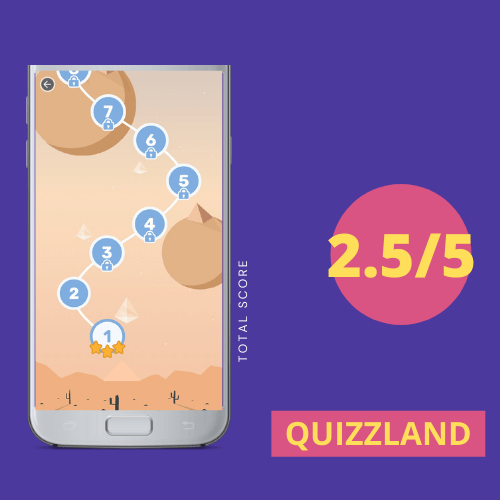 Which is your favorite Trivia game? If you would like to read more trivia reviews like Quizzland – Trivia App Review please take a look at the articles below: