Trivia 360 – Trivia App Review
Introduction
Today we will be talking about Trivia 360 – Trivia App Review. The game is offered in both the Apple Store and the Google Play store. If you would like to find out more about the game you can find it in the Google store here and the Apple store here.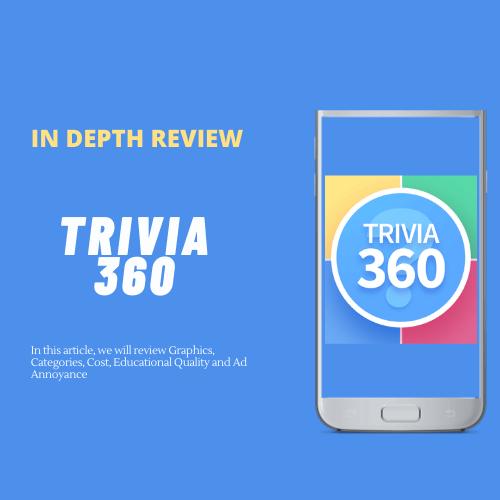 TRIVIA 360 is a free quiz game you can play on your android. It is an easy to play trivia app but at the same time it is an excellent brain game. Owned by Smart Owl, released in 2016 and taking up 33MB of your disk space Trivia 360 is an app you cannot miss if you are a Trivia enthusiast. Trivia 360 offers a variety of game modes with the difficulty increasing as you level up. 
How does Trivia 360 work?
You can play the brain mobile game with a dozens of trivia puzzles. The quizzes are set in various categories such as Classic 4-answers questions, true/false questions, head to head, solo  and more. Clock is ticking on a 10sec buzzer so be quick for head to head, while solo is 1 or 2 mins.

Simply test the questions from your selected mode and check how many right answers you can hit! Best of 3 rounds wins.
Trivia 360 – Graphics 
Trivia 360 allows you to add an avatar either by a predetermined group of pre selected avatars or by simply adding your own picture. You also have the option to turn Animation ON/OFF on the settings. The app also conveniently detects your country by reading your IP and projects a flag next to your name. Otherwise the graphics are pretty simple, best suited for a kids game rather than for grown ups. There are no fancy pictures with the questions and the background lacks imagination. For what it's worth, given the limited space it takes up on your device, the app presents a good compromise between loading speed and graphics output.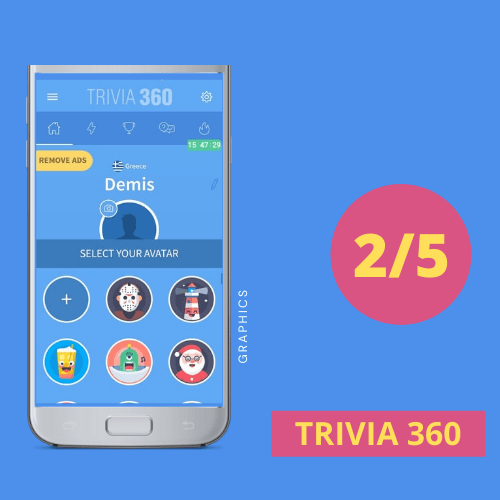 Trivia 360 – Categories 
There are different categories on Trivia 360 that you can win trophies for. There are daily challenges in certain categories that get randomized by the app each day. The majority of the questions on daily challenges have a certain theme, such as Science or History. Others are a little more specific like John Rambo or Michael Jackson. You can also play solo or head to head (random or friend) but on that occasion there is no selection of categories and you just get a mixed bag of questions. The questions you get are also random with some being True – False and some having the typical 4 answers to choose from. Overall this game favors competitors with good knowledge in various categories rather than those that specialize in one subject.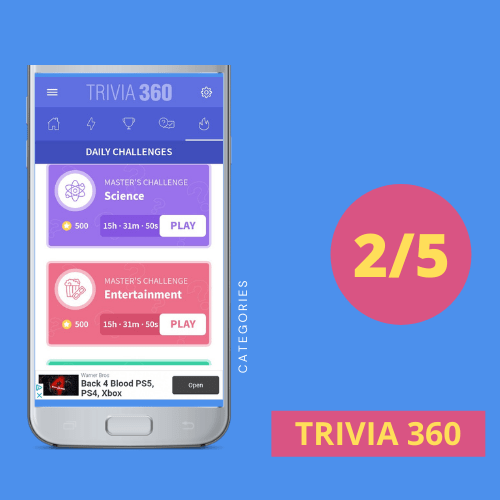 Trivia 360 – Cost of playing
As this app is offered for free it requires  income from advertisement to make up for the shortfall of a steady stream of cash from users. Therefore the only option presented to you is to pay to get rid of the ads. A US$4.50 fee is all you need to pay, which is a considerable premium to pay just to get an ad free content and experience. As there are no other added benefits that come with the fee this is probably not the best value for money deal you can get.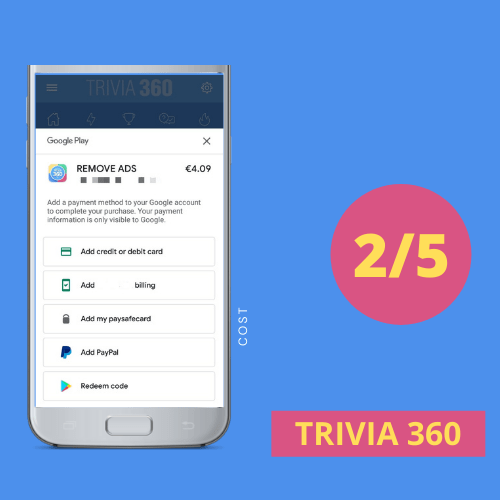 Trivia 360 – Educational Quality
The quizzes of Trivia 360 are on a wide variety of questions. However, on a head to head game, you only get 10sec to answer. This is to hinder cheaters from using Google to get their answers right. While the reasoning of the 10sec limit is clearly correct, it does put a little bit of pressure on a user that may know the answer but requires a little longer to read or think. Also since you have no time to consider your answer it is likely that you will not learn once the game is finished. Then there is the drawback for kids in younger age groups that are still on the "learn how to read" stage. This app is definitely not a good match for them. Older people that might be playing quiz for dementia prevention may also struggle a bit with the speed of head to head games.
On the Solo mode you get one or 2 minutes to answer the 10 questions. So that means you can get a little bit of an edge if you are quick to answer some questions faster. Overall the categories are pretty standard and cover all aspects of education from science to literature plus some niche categories.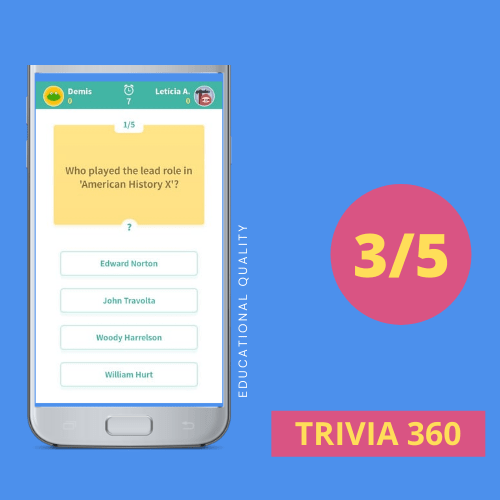 Trivia 360 – Gameplay / Advertisements
On a Head to Head game the winner is the one who wins most out of 3 game rounds, with each round being 5 questions. There is also a point system that gives you extra points depending on how fast you have answered each question. So if two players have managed the same amount of correct answers the winner is the one who has answered correct the fastest. Once again rewarding speed over time encourages players to make random guesses in questions they are unsure of, rather than an trying an educated guess. Just when you think you are "on fire", the video ads hit you with no option to skip them. Plus there are fixed ads at the bottom of each page that make the content smaller on your device's screen. Taking part on daily challenges does increase competitiveness between users which make the game a little addictive.
Overall the experience is one of annoyance rather than one of fun if you add up all the time from interruptions during game play. If you are not the competitive type of person, best stick to the Head to Head or Solo games rather than the Daily/Weekly challenges.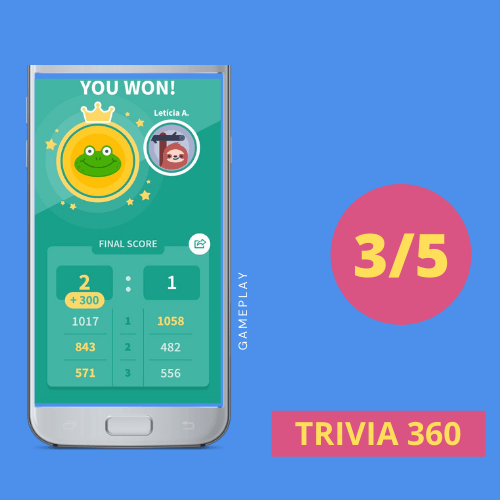 Conclusion
For certain age groups and for people that are competitive when playing a game this is probably as good as it gets. Also this a great app if your knowledge is broad and like to randomize your questions and difficulty. However if you are a child or just after some fun, relaxation and passing of time then probably look for other Trivia apps with a more chill out feel that does not punish players simply to hinder cheaters with time constraints. 
If you found this review useful and you think it may have helped you please drop us a line we would appreciate it. If you have any questions, comments please post them below. We check periodically and try to answer them in the priority they come in. Also, if you have any corrections please do let us know and we will update the article with new updates or mistakes we may have made.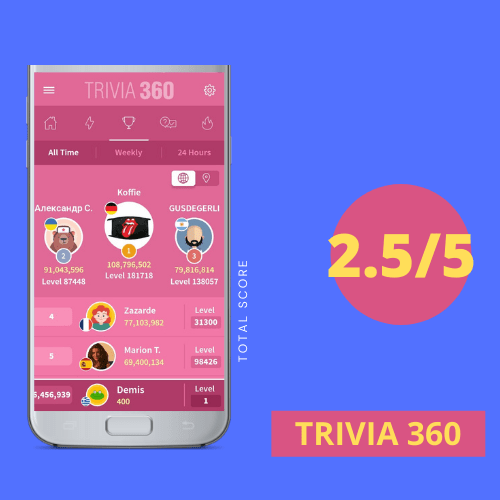 Which is your favorite Trivia game?
If you would like to read more trivia reviews like Trivia 360 – Trivia App Review please take a look at the articles below: